Covid 19 in the State of Oregon. WE ARE OPEN with some key changes in order to comply. We will not be serving breakfast if it's cold outside. There will be an option for a pick up breakfast. The rate will be discounted if you choose not to include Breakfast. Weather permitting, we will serve you on the patio. Located on twenty-four acres of nature, it is easy to social distance. In addition to our regular cleaning protocol, we use electrostatic fogging technology to insure the highest standard of care for our guests. This is our slow season and it's easy to get in for one night, or for an extended stay. Take advantage of lower rates and quiet serenity in the trees! ALSO! We are going to accomodate pets on a case to case basis. There will be an additional charge and a cleaning deposit required, refunded within 48 hours of checkout if there are no damages. This is during the off season only.
Got Trees?
Nestle up to a Tree in Style. We feature State of the Art Tree Houses and Breakfasts prepared with Love. Using Locally Sourced Organics whenever possible. Disc Golf on site, seasonal catch & release fishing, Technical Tree Climbing, Crafts and more. Plan your next vacation here at our retreat.
"Unforgettable Vacation Memories"
Read some TESTIMONIALS below and see why we're Southern Oregon's Finest B and B. Need an Exceptional back drop for your next Festivity? Plan your Reception, Wedding, or other Event here at Vertical Horizons!
Summer 2021
SMOKE DISCLAIMER: Our Tree Houses are built in live trees, in the forest. Sadly there are occasionally forest fires in our forests. In the event of a forest fire near us in which we are under any type of evacuation notice or orders, we will attempt to notify you. Sometime smoke from fires a great distance away blows in and obviously when fires are near-by we have smoke intermittent and sometimes most of the day. Usually in even the worst of circumstances, smoke wise, the smoke blows in and out and almost always the afternoons are clear with blue sky, beautiful sunsets and starry nights. We are not able to control the smoke from forest fires and there are no refunds due to smoke under any circumstances. If you have a medical condition that is effected by poor air quality, our winter cancellation policy applies. If you choose not to arrive or to leave, you will be charged the full amount of your stay, or as per our cancellation policy. There will be no refunds.
COME CHECK US OUT
'Get High Up in a Tree'
In the Winter, the longer you stay the Less You Pay. See our Winter Nesting Packages.
10% Discount - For our Troops and Return Guests.
FREE WIRELESS INTERNET
- NO PETS PLEASE -
Play DISC GOLF Here!
Click Here For - WHITE WATER RAFTING -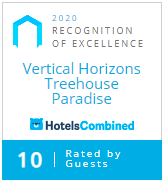 TESTIMONIALS
7/3/2020 The whole family absolutely loved staying here! We loved walking around and seeing all the different things, horseshoe, the greenhouse, and Panzer! It was all such an amazing time. So glad we could stay here! Love The Rymond Family. Nick, Dawn, Jake, Jordan P.S. The breakfast was amazing!
3/22/2020 - Wow! What an amazing stay! I loved staying in the cottage and sleeping in the loft with my sister. It was nice and cozy and loved playing my ukelele on the deck. And, of course, Phil's breakfast! It was like eating a piece of heaven! I haven't had a breakfast like that since, well ever! I loved exploring the outside and doing the frisbee golf course with my family. Thank you Vertical Horizons for the fantastic stay and the unforgettable memories. Thanks! Emily Meigs and the Meigs Family - Eugene, OR
October 23, 24 2020 -My big Sisters surprised me for my 29th birthday with the best sleepover ever in a treehouse?! We ate more sugar than ever, laughed hard, and loved on eachother every second. This place is so special to us now, especially being spoiled by the owners and staff with their hospitality. We cannot wait to come back to this beautiful place, and I will never forget my best birthday ever! Love, JuJu, Ani and TamTam